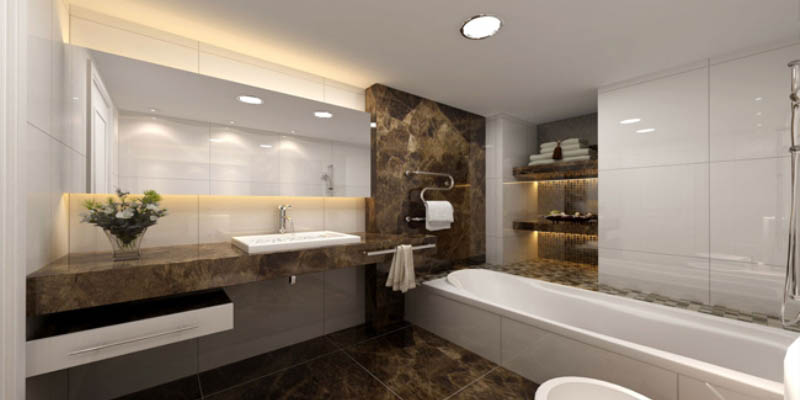 Bathroom Renovation – A sensation of luxury in your bathroom
Renovate your bathroom.
The bathroom renovation is a job that will renew your space and give you a sense of luxury. The bathroom renovation is a job that must, as in any kind of renovation, be done by experienced technicians after proper study and planning to ensure a quality and functional outcome.
Our company, with extensive experience in the field, can remodel your bathroom properly, economically and quickly.
A bathroom renovation includes the following steps:
First we will cancel the water supply and scrap off your bathroom what is not longer needed and it is going to be changed. We will remove the old sanitary-ware and the old tiles from walls and floor. Then we will remove debris and clean the area.
Then the plumber will carry out the work on the new pipes for water supply and sanitation of your bathroom, especially if the house has an age bigger than 25 years, since it is a common mistake to link new plumbing on old facilities.
We also realize some simple electrical work on, e.g. laundry facility, lighting and electrical outlet.
Then we plastered the walls of the bathroom.
When renovating bathrooms the installation of new tiles and sanitary ware is based on the study developed by our designer taking into account the dimensions of space, budget and of course your preferences. Our challenge here is the proper utilization of the existing space for a functional and convenient bathroom.
Then we are available to you with recommendations regarding the selection of sanitary ware after years of cooperation with reputable suppliers. We will proceed to place them with absolute attention to detail and impeccable work.
We will connect the lighting selected and finally,
We will paint the ceiling.
The bathroom renovation is a job that costs less than another renovation, e.g. kitchen renovation. That is why it is worthy to choose the best possible materials and sanitary ware, to ensure a long-lasting effect.
Our technicians are at your disposal to discuss with you and answer any questions, while carefully selected teams will successfully realize any plan we design together. All these are always offered in a competitive price and with high quality.
Contact Us
You just have to contact us to discuss in detail your bathroom renovation based on your data.