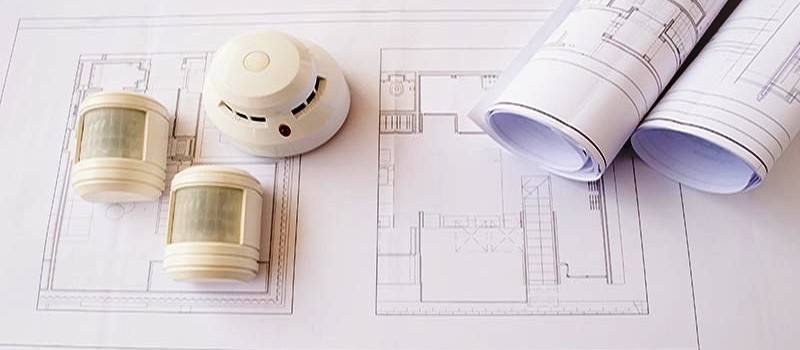 Secure your house with General Electric security systems.
POUPALOS BROS Co. undertakes the installation of a security system for your home, your office or any other place you wish to protect.
We offer reliable products and materials made in the USA or Japan. Our skilled technical personnel follows strict installation procedures in order to provide maximum security and reliability. Our company also holds a special permit to install security systems, issued by the police.
You may opt for one of our many security system proposals.
Our company will help you make the right choice for your place at the right price based on functionality, safety and excellent aesthetic result.
A basic security system consists of:
Main Control unit (the panel on which all the cables of the system end up)
Keypad (usually placed at the entrance of the space we want to protect; it allows us to control all system functions)
Magnetic contact switches-traps (placed at the openings of the space you want to protect such as doors and windows in order to detect an attempt to break in)
Motion detectors (placed at several points in order to detect any movement in space)
Outdoor siren (installed outside the protected area at a place that is visible but hard to reach in order to show that the area is protected; when the alarm is activated it produces a loud sound)
Special equipment and accessories (glass break detectors, vibration detectors, access control beams, answering machines and other accessories for special circumstances)

All cables used for the installation of a security system are placed during the wiring process. All cables are tinned, manufactured by British company CQR, while all basic materials come from CADDX company, a subsidiary of GENERAL ELECTRIC
The experience of our technicians combined with the way we carry out the installation offers you functionality, aesthetics, security and durability since:
We place a motion detector in every room
All connections are carried out by soldering. We never connect cables simply by twisting them together
We place at least one contact switch per opening
We place contact switches in a way that they are the least visible
We run all necessary tests and proceed with the necessary programming in order to connect your security system to a 24-hour monitoring station that receives alarm signals providing extra protection for you and your family
Since 1998 our company holds excellent cooperation with ATLAS SECURITY, a recognized monitoring station.
If you so wish, we connect the security system of your home or business with the monitoring station and offer additional security since your system is monitored 24/7 and all necessary action is promptly taken in case of any incident (break-in, maintenance, loss of power etc.).
If you wish, we connect the security system of your home or your business to the monitoring station and achieve extra security since your system is monitored in a 24-hour basis with promptness and professionalism taking all necessary action in case of burglary, maintenance, loss of power etc.
Regarding the technical support that may be needed in the future, our company provides reliable after-sales services with minimal cost to satisfy your maintenance needs, to accommodate changes in programming or expansion and upgrading of the system.