Fire detection. Working twelve meters underground!
Our company, having large experience in plumbing and electrical installations, undertakes the procurement and installation of all necessary and required materials and products to properly implement the approved fire protection study.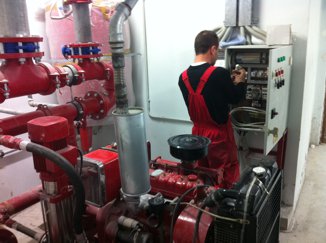 NTUA Mechanical Engineer undertakes the fire protection study and continues with all necessary actions required so the study is approved by the Fire Department in charge.
Specialized personnel will implement the study by installing the fire fighting piping network that will end up to sprinklers, hose cabinets or a combination of both.
They will also install the necessary wiring and all materials needed (detectors, panels, fire alarm buttons, sirens, etc.) to complete the fire detection system (conventional or addressable).
Our company's electricians will install necessary security lighting; technicians will test the fire detection system and make all required arrangements to be put into operation.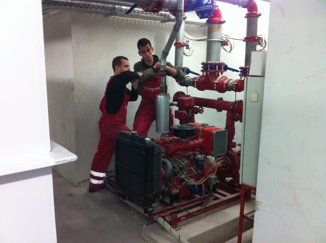 Our company will arrange for the supply and installation of pump station.
We use top quality materials accompanied by the required certificates.
Before delivering the network for use fire our company will proceed to the following actions:
Check of all network jointings for leaks on account of construction error or material failure.
Check of piping network upholding
Test the installation under pressure according to the appropriate regulations.