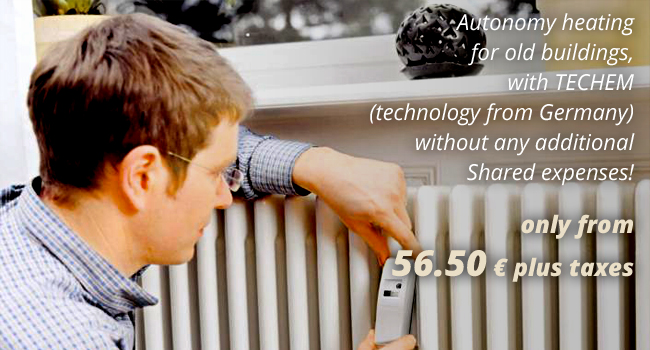 * View our detailed Pricetable

In each radiator the upper switch is replaced by a simple thermostatic switch which may turn it on and off to regulate the temperature. Only those who can turn on and off the radiator can define consumption and benefit from linking expenditure to actual consumption. Radiators which can not be adjusted, should be equipped with a thermostatic switch. With a thermostatic switch one can adjust the room temperature. As rooms are not equally used, it is possible to save energy considerably by just turning on the thermostatic switch and reducing room temperature. Generally applies that a grade less in room temperature corresponds to 6% energy saving.
The thermostatic switch can adjust room temperature from 8°C to 28°C.
The optimal temperatures for an apartment are:
Living room, kids room: 19-20ºC
Kitchen, hallway, hall: 18-20ºC
Bedroom: 16-18ºC
Bathroom: 20-22ºC
Read more about autonomy heating systems: