Foundation grounding. Required and certain solution!
Grounding is very important for a building's construction and can be achieved with a variety of materials and methods.
Also, coordination and processing speed are very important since grounding usually takes place parallel to the foundation construction process and cooperation among all crews is essential to avoid costly delays or mistakes.
Our company has the required structure and a large crew of specialized technicians to act directly and quickly while other works take place in the construction site without compromise on quality of installation.
According to the laws in force, foundation grounding is mandatory for all newly-built buildings.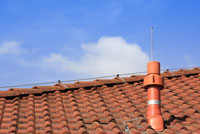 Our company offers a complete protection system using lightning rods or Faraday cages as a means of lightning protection and integrating such means into the foundation grounding system.
An engineer of our company will draft a study which will be implemented by our electricians following all relevant standards, rules and regulations. The result will be an integrated grounding installation which will protect your construction.

Grounding can be installed using various electrodes (rod, strip, plate, etc.).Our electricians will install the foundation grounding using top quality materials and in accordance with the standards which are in effect at the time of the construction.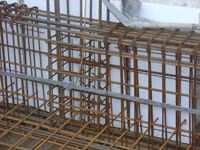 In foundation grounding we use a 30×3.5 mm hot galvanized steel strip (St/tZn) with a 500 gr/m2 zinc coating which we place in the foundations of the buildings, within the concrete.
In large buildings we also put steel strips in connecting beams and/or walls so that no point within the floor plan of the foundation is more than 10m away from a grounding strip.
When we reach the end of the steel strip we extend it using a special joint fitting. In buildings with contraction-expansion joints special connectors are used.
For all spots inside the building that are allocated for future use, we install a 10mm steel conduit which we connect with the steel strip using special joint fittings.
To prevent erosion, our electricians wrap the steel conduit with an anti-corrosion film about 35cm within the concrete and about 35cm outside the concrete.
The main conduits left inside the building are positioned in the boiler room and the elevator shaft while the ones located outside are destined to connect the foundation grounding with the power provider and to extend the grounding system.
In foundation grounding we also connect equipotentially:
The water supply pipes (metal ones)
The natural gas pipes
The fire protection pipes
The fuel pipes
The air conditioning ducts
The metal sheaths of power supply and telephone cables
The lightning protection
Foundation grounding is the basic means of protection against electric shock and other harmful situations, but it cannot protect you from all dangers. There are weather phenomena, such as lightning, that can cause serious problems in your electrical installation and equipment.
We cannot predict a hit by lightning, but we can protect both you and your facility, because we know the behaviour of this phenomenon and its possible effects.
When we talk about lightning, in essence we refer to extremely high voltage discharge. The cost of installing a lightning protection system is negligible compared to the disastrous consequences a hit by lightning can cause either to your equipment or to people living in the building you are constructing.
There are specific criteria to determine if your construction needs lightning protection or not.
Our company will make this assessment and in case your construction requires protection we will propose the best solution.
Our electricians will install lightning protection using only certified materials. The lightning protection combined with the grounding installation will provide an integrated system for your safety and for the protection of your equipment.