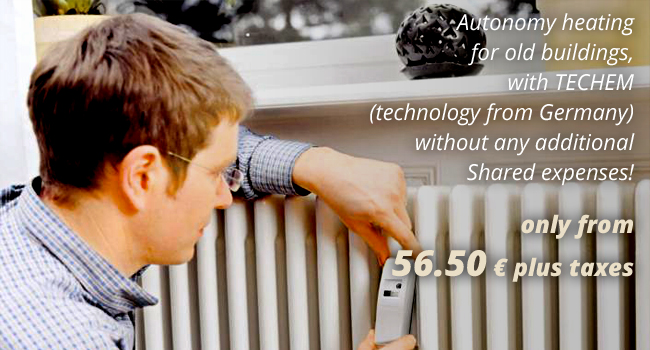 Ηeating autonomy in old buildings. Comfort and economy forever!
Convertion of central heating in old buildings to independent
Our company, with extensive experience in the field of special electromechanical applications, suggests the best solution for the heating of your block of apartments by implementing a pioneering system of autonomous heating with entirely fair cost allocation. Our licensed plumbing crew, led by a mechanical engineer, uses special equipment in order to carry out a small and low cost interference in your radiators. As a result, you can use the heating in your apartment whenever you want and for as long as you want, set the temperature individually in each room and allocate the heating costs to the apartments in a completely reliable and secure way.
In summary, the characteristics of the "Autonomy" are as follows:
System of German design and construction
Without plumbing or electrical interference
Fast and economic installation
Without extra shared costs
Choice of different temperature in every room
Completely fair heating costs allocation
10 years functionality warranty
The "Autonomy" system is entirely wireless, does not demand power supply, does not need repeater within the floors, cannot be tampered with and has an electronic self-test mode. Moreover, it has an effect of energy consumption visible to the user of heating. The correct use of the system saves much of the cost of heating and you enjoy a warm house whenever you wish.
The "Autonomy" system is constructed by the German company TECHEM, which is top in Europe for energy saving systems and calorimetry in recent years and gurarantees a lifetime secure and uninterrupted operation of independent heating in your block of apartments!
Subsequently we analyze the facts that lead to the need for changing the old systems of central heating and we present in detail the elements that make up the system of 'Autonomy'.