Underfloor heating installation.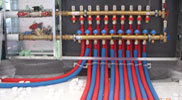 Installation of collectors.The installation begins with the placement of collectors in the distribution panels that have been placed in the positions specified in the study.
Installation of perimeter band.Then we place the perimeter band along the inner side of exterior walls, on all interior walls, as well as on internal columns in heated areas not adjacent to walls. The perimeter band serves primarily to protect structural elements from contraction/expansion of the heated floor.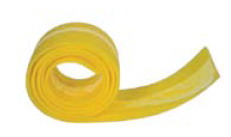 Installing expansion joints. After placing the perimeter band, plumbers create expansion joints by installing special steak joints in all the points specified in the study.
Installing castellated panel. Our crew carefully places the blocks of the castellated panel starting from the corners of the heated spaces.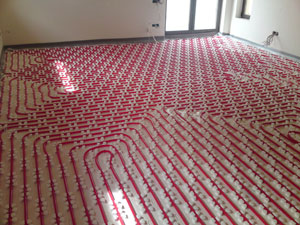 Pipe fitting.Pipes follow a snail-like course so that next to each cold water pipe there is a hot water pipe, thus ensuring uniform floor and space temperature.The lengths of the circuits have been established during the study based on space heating needs and on restrictions in relation to the maximum allowed pressure drop per meter of pipe and the maximum allowed surface temperature depending on the kind of space.Also, we place coil protection at all the points specified in the study.Having completed the laying of the circuits we proceed with carefully inspecting the whole installation, paying special attention to turns and expansion joints.