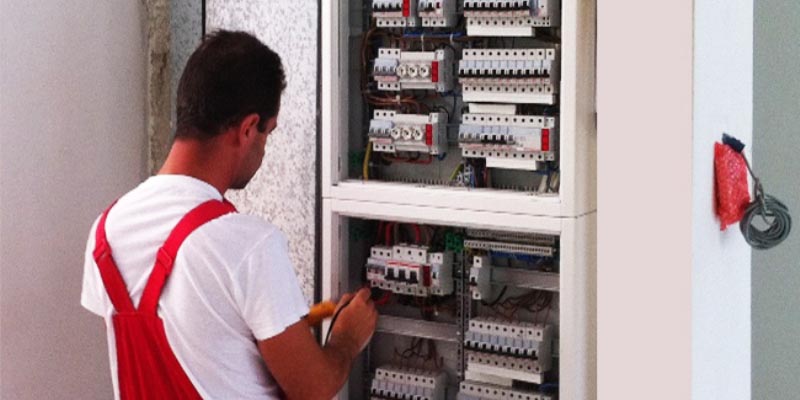 Main power supplies – Electric panels
For your offices electrical installation, regarding strong currents i.e. main power supplies that supply your main electric panel, lighting fixtures, devices and equipment POUPALOS BROS Co. follows the same methods and techniques like the ones executed in houses having a fully organized crew of licensed electricians, equipped with the latest tools, machinery and top quality materials.
In the course of the project, our crews apply innovative techniques using specialized tools/machinery and top quality materials so as to deliver optimal results, both technically and aesthetically. For example:
Use of a special Laser machine for marking the elements of the installation.
Anticipating changes when installing electrical tubing..
Use of Kouvidis Co. electrical tubes that guarantee high quality and endurance.
Uninterrupted and precise cutting of bricks using a special chasing machine for optimal tube placing.
Cleaning of junction and switch boxes using a special jigsaw to avoid cable injury.
Use of photos for uncovering junction boxes in order to facilitate problem solving.
Strictly standardized use of colored cables to ensure consistency between installation stages.
Extensive testing both after wiring installation and after switches installation.
Permanent keeping of an electronic file with your electrical installation data, photographs, drawings.
With appropriate training, support and supervision, our electricians follow technically sound methods for electrical installation of your offices in a coordinated and efficient manner.
Depending on the rest building infrastructure your offices electrical installation can be implemented using various methods. What may change is the routing of cables, which can be achieved through false roofs, false floors, shaft (vertical route) or cable trays. Many times, however, the methodology followed is similar to that of houses, ie preparing the route network of cables by placing tubes in the brickwork.
From the electric panels installed by our electricians all the rest individual power lines leave. On each floor we place at least one electric panel with its own leakage relay for maximum protection of people and equipment. Electric panels' materials are branded and certified according to internal electrical installations regulations. The electric panels are spacious offering ease of use, ease of maintenance as well as the possibility to add new lines.
Because the basic methodology of offices electrical installation does not differ from that of residential electrical installation, it is useful to see in more detail the procedures and techniques we follow through the various stages of domestic electrical installation.