Drainage
Our cooperation begins when you start building the foundations of your construction. With your assistance, an engineer of our company determines the points where the drain network pipes will pass though. Our technicians work closely with the crew that constructs the house foundations in order to form the necessary infrastructure that will speed up the construction while reducing your costs.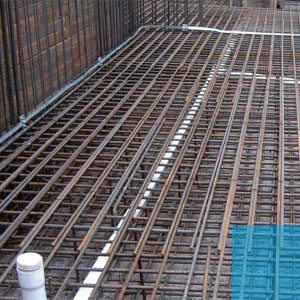 Afterwards our plumbers ensure that these points are stuffed with polystyrene which will be removed after the completion of the foundations stage. As a result, we create the holes from where the drain pipes will pass avoiding cutting the slabs of the floors in the future.
Similarly, if we have the option we create an underground drain network which also will be used after the foundations stage avoiding digging the basement slab.
Otherwise, along with the water supply installation our plumbers proceed to the installation of pipes and all other necessary materials (waste traps, gullies, pumps, racks, etc.), creating the drain network of your construction, which will manage wastewater and rainwater.
All vertical holes are made using a special tool (wet diamond drilling machine) which operates in a way that doesn't cause damage to concrete opposed to the pneumatic drill. This way the building's static strength is burdened as little as possible.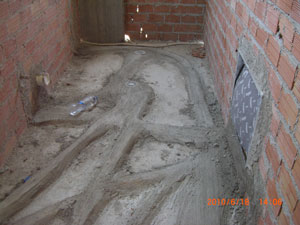 For drainage we use pvc pipes and fittings of top quality and toughness placed in such a way to ensure:
Safety, as we check all pipe connections to prevent deterioration over time.
Noise minimization.
Aesthetics, as we place the gutters in a way to fit the rest of the structure.
Functionality, as size and inclines of the pipes are tested during the installation process and afterwards are covered with cement for extra protection.
Ease of maintenance and expansion, as we place caps, gulleys and floor gully traps where needed.
Comfort, since we put the sanitary ware in the right places (provided that there is enough space).
When the construction is almost complete and the outdoors should be formed, we construct the external drain network, which includes large parts of horizontal pipes in the ground combined with the appropriate gulleys.
We make sure so the positions of gulleys, routings and slopes of pipes are the appropriate ones to avoid accumulation of dirt that can clog the network from working properly, but also to facilitate easy access for cleaning.
When needed we use special polypropylene (PP) pipes. These types of pipes are almost unbreakable and have outstanding resistance to mechanical load.
If it is technically feasible we make sure that rain water reaches the street (passing through the sidewalk) and not the surroundings.
Additionally, at the ending of the main drain network we always place a suitable cover device, which isolates smells coming from the domestic waste sink or the city sewage network.
upon copletion of the installation, we cover all pipes with cement for maximum protection.
Finally, we have the expertise to support the installation of special facilities such as wastewater treatment, swimming pools, pumping stations, watertight basins draining…